Having recently been on holiday in the Lake District (since you asked, a stone's throw away from Windermere), I was of course inundated with quite a bit of Beatrix Potter paraphernalia – hardly surprising, given that she wrote her world-famous books whilst living in the area. As such, I was reminded of the first time I came into contact with her work; a short but very sweet series of nine animated specials from the BBC, spread out from 1992 to 1995.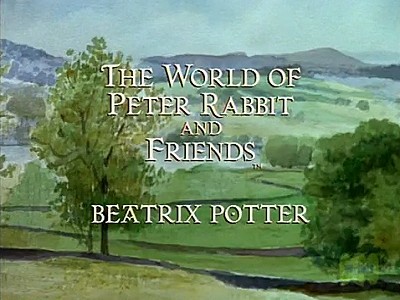 Each episode followed a pattern: Beatrix Potter (played by Niamh Cusack, daughter of Cyril Cusack) would come back into her house after doing something quaint and rural e.g. arriving by horse-drawn carriage, then tell her pet rabbit Peter about the story she's working on, which leads into the story itself, animated in a style that is as faithful as possible to Potter's original style and still fluidly animated.
The stories usually got round the rather slight nature of Potter's plots by doubling up on stories, e.g. Jeremy Fisher would call on Mrs Tiggywinkle to get his clothes laundered, but sometimes there was the occasional "full-length" episode, such as The Tailor of Gloucester. The transitions were handled as seamlessly as possible.
As for the stories themselves, they were done with the utmost reverence for the source material, with no extraneous deviations, adding for a very pleasant experience. Adding to the charm was the superb cast list; there's no real point in my singling out any one specific performance, so I might as well post the cast list here, and say that it was pretty much a cavalcade of national treasures.
With the story completed, we would fade back to Beatrix, who would then post her now-completed story to her publishers, roll credits. All in all, there's little to fault the series for, especially when you realise it had the involvement of the late Dianne Jackson, who directed The Snowman, aka the one Christmas movie everyone loves to cry at the end of (that isn't It's A Wonderful Life).
Granted, most parents would probably prefer to read the books themselves to their own children. However, if they're off sick from school then you could do a lot worse than to stick the DVD on for an hour or so, whilst playing "I Know That Voice!" to yourself as you watch along with them.